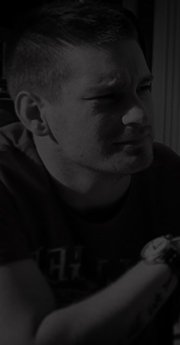 Internet & tech
junkie. Kidult.
Nomophob.
With strong passion for UI interactions, web animations and everything regarding web technologies.
Karlo Videk
Creative Front-end developer based in Zagreb, Croatia. Currently working @Bornfight.
Work
I enjoy creating smooth web experiences with strong focus on performance and optimization. Bringing static things alive is my cup of tea.
Wordpress / WooCommerce / Shopify
PHP / Twig / Liquid
HTML5 & CSS3 (Scss)
JavaScript / ES6 / jQuery
Version control / Git
Testing / Debugging
Building & automation tools / Web performance (Grunt, Gulp, Webpack)
Projects are made within Bornfight Company
Awards
FWA

Fwa of the day - Lufthansa dreamscapes

Awwwards

Site of the day - GETZ
Developer award - GETZ
Mobile Excellence award - GETZ
Honorable mention - GETZ
Site of the day - Bornfight
Developer award - Bornfight
Mobile Excellence award - Bornfight
Honorable mention - Bornfight
Honorable mention - Mercury Processing
Site of the day - Lufthansa dreamscapes
Developer award - Lufthansa dreamscapes
Honorable mention - Lufthansa dreamscapes
Honorable mention - Agency xmas
Honorable mention - Adriatic luxury hotels
Honorable mention - Ožujsko
CSS Design awards

Website of the day - GETZ
Innovation, UI design, UX design awards - GETZ
Website of the day - Bornfight
Innovation, UI design, UX design awards - Bornfight
Website of the day - Lufthansa dreamscapes
Special kudos - Agency xmas
Website of the day - Ožujsko
Special kudos - Adriatic luxury hotels

One page Love

Website of the day - When cats are away

Creative Frontend

Site of the day - Mercury Processing
Site of the day - Lufthansa dreamscapes
Let's connect